Introducing Brenda Agnew, Director of Three To Be
Parenting is not easy. We are here to help and to introduce your family to other great parenting resources in our communities. We're excited to introduce you to Brenda Agnew, the Director of THREE TO BE.
Tell us a little bit about where you grew up and what you were like as a child.
I was born in Toronto at St. Joe's Hospital and we lived in the city until I was eight. My dad is a retired Toronto Police Services staff sergeant, and both my parents had grown up in Toronto.  We moved into the burbs to a town called Newmarket when I was in Grade 2 so we could have a bigger house, on a quieter street I and spent almost 25 years there until I married and moved away.
I had a great childhood, and relished being an only child. My childhood was filled with skating competitions and softball games, sleepovers, camp, roller-skating until the street lights came on. Birthday parties were pizza and pop with big do-it yourself sundaes. Saturday morning cartoons, and running through the sprinklers. Those were the days of needing a pillow case for your Halloween loot, and our costumes were homemade.
I was a happy kid and I always used my manners, but pushed the limits often, especially in school where I got great marks, but loved being the class clown. I never wanted for anything, my parents always made sure I had what I needed in life, while avoiding the pitfalls of spoiling an only child. Strong willed, bad in math, loyal friend, and I wore my heart on my sleeve, things that still hold true today.
Describe what how your work serves parents and families? How long you have been doing it?
THREE TO BE was started with the intention to find a way to help children with neurological disorders by investing in research that could heal a child's brain and the therapies and technologies that give enhanced opportunities to these children.  Along the way, we also realized that there was a dire need to give parents of these special children a community they could feel connected to and supported by.
We know firsthand how vitally important it is that in order to reach their full potential and future success, children with neurological disorders need the strongest possible support system and advocates – their families.  This is how our Parent Advocacy Link (PAL) program began. I have been the Director of PAL in a volunteer capacity since 2011. At PAL, we focus our assistance for families in three areas:
Knowledge
Empowerment and
Support
One of the initiatives that we are so proud of is the online support group that we have created through Facebook. This is a closed support group for a community of parents, families and caregivers of children with neurological disorders. It is in this space where they can share struggles, successes, concerns, hope and experience, helpful hints, questions and inspiration with hundreds of others. This online space for parents is where they can access information, tools, resources and peer support that helps them become the greatest advocates they can be for their children.  We partner with community organizations across Ontario and Canada to ensure that what we provide is the most relevant for our families' needs and to make our collective voices heard.
We have also had great success with our PAL Assist Program where we have designed two funding initiatives that allow parents to apply for support. The programs include the Give Me A Break Program (parent and family respite) and a Fee Subsidy Program – designed to respond directly to the here and now needs of our families, as well as enhance the degree to which they are nurtured and supported within our community.
Everything we do through PAL is aimed at making all aspects of special needs parenting better, easier and supported. Every day, more families are receiving a diagnosis of cerebral palsy, autism, epilepsy and countless other neurological disorders.
What's the biggest lesson you've learned about what you do and the work you do with THREE TO BE?
To listen to what your key stakeholders want from you. As a parent to a child with special needs I tend to think that I truly know what it is that other parents in similar circumstances want from an organization like ours. But every parent is different. And what is important to one, may not hold as much value to another.
We have learned to take our cues from the parents we serve when it comes to what they would like to see from us from a support perspective. It isn't always a "build it and they will come".
We keep our families engaged so we can get their feedback on the key issues and concerns that they have in raising their children. This helps us to craft what our funding initiatives will look like, where we should focus on for information sessions, what resources we need to create, where parents need support specifically.
What's your key piece of advice for parents?
You know your child the best. Only you know what is best for your child. Trust your instincts and believe in yourself as a parent. These kids don't come with a manual, so just love them, and care for them and the rest will fall into place. So what if your kid still has a soother at 5 years old! I can guarantee you with all certainty that they won't have to take it out of their mouth to kiss their bride on their wedding day.
What keeps you interested in doing what you do?
I am personally vested because I am sharing this journey with the other parents out there navigating their way through the world of special needs. I have two boys, and my youngest has Cerebral Palsy. Since the day he was diagnosed, I have always had the overwhelming need to connect with other parents who know what I am going through.
I wake up every day and hope that what I am doing is helping other families like mine. I have so much joy when I hear about parents who have connected through PAL and are now friends. Whose kids have become friends, attended each other's birthday parties, have playdates and plan vacations together. It is so fulfilling to know that we are doing something positive in the lives of these families and their children.
What parenting resource/product do you wish you had invented?
The bouncy chair. That was a god send for both of my babies. It allowed me to place them somewhere safe, where they could still be somewhat upright, and it never failed to lull them to sleep when I put it in vibrate mode. We had two of them in our house, one on each floor, and each grandparent had one at their house. I owe many showers, cups of tea, and dinner prep to those bouncy chairs.
Share the title of a favourite parenting book. Why do you love it?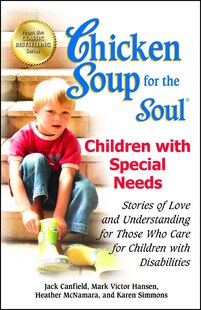 Chicken Soup for the Soul: Children with Special Needs: Stories of Love and Understanding for Those who Care for Children with Disabilities
This book landed in my hands at the exact time that I needed it. Very early on after my son had been diagnosed, and I was scouring the internet for any and all information I could find, and reading every book on the subject of raising a child with special needs. So much of it was clinical and scary and I had trouble finding any comfort to my fearful feelings. I was desperate to get answers on how to parent my son with his special needs. I was so overcome with feelings of grief and sadness and worry.
After reading this book, I started to find hope and inspiration from others who were living in my shoes. I found myself starting to find ways to embrace and accept and to see the proverbial silver lining.
"These stories provide insight, comfort, and connection with others who have walked this powerful and transformational journey. The authors of these candid stories relate their own experiences of adjusting, reaching out, and flourishing and share their universal worries, their tears, and the laughter that come with this extraordinary relationship. Most important, through these stories, you will be guided with the wisdom of fellow parents, caregivers, and those with special needs to help you be the very best parent or caregiver you can be"
Fill in the blank: I would like __________ to answer these same questions.
Jenn Sprung, from Cleverly Disguised as Cake.
Are you on Twitter? Facebook? Please share where we can find you.
You can find us on Facebook at THREE TO BE, and THREE TO BE's Parent Advocacy Link. We are also on twitter @THREETOBE and @PALPARENT. Our website is www.threetobe.org/pal.
The information you provide in this form is stored securely and held confidentially by Morneau Shepell.
Just released – 'A guide to the benefits of interprofessional care for families & children'
Download your copy today!